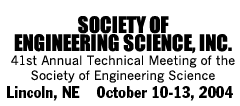 Call for Abstracts
Welcome to the Abstract Submission Site for the 41st Annual SES Technical Meeting
Online Submission Deadline has been extended to: June 30, 2004
If you have already submitted an abstract title and you wish to view, resume, edit, or withdraw that submission, log in below using the access codes already provided to you.
Technical support may be obtained by calling (401) 334-0220 between 8:30 a.m and 6:00 p.m. ET, Monday-Friday, or at all times by contacting tech support.

YOU DO NOT NEED AN ID OR PASSWORD TO SUBMIT AN ABSTRACT. TO BEGIN, JUST FOLLOW THE HYPERLINK BELOW.
Information
The proceedings of the 2004 SES conference will consist of one-page abstracts. All contributed and invited abstracts must be submitted by April 9, 2004 in order to be reviewed for possible inclusion in SES2004. Abstracts intended for a particular symposium will be forwarded to the proper symposium organizer(s) for review. General session abstracts will be reviewed by the local organizing committee. Abstracts may be approved, returned to the author with required changes, or rejected in the review process. Since abstracts will be printed "as is," it is essential that the authors submit grammatically correct abstracts.
Authors must pay the early registration fee for their abstracts to appear in the proceedings. Early registration fees will be partially refunded in the event an author cannot attend the conference. A link for registration is found on the conference home page.
View the symposium list here: http://www.nuengr.unl.edu/ses2004/symposia.html
Dates
The dates for registration can be found at http://www.nuengr.unl.edu/ses2004/index.html
General Submission Guidelines
Abstracts MUST be electronically uploaded to the conference server.
Your abstract text can be no more than 250 words. Longer abstracts will not be allowed.
We suggest that you prepare and save your abstract text off-line before beginning your submission, as you will be able to copy and paste from a word processing program document.
At the end of submission, you will have an opportunity to review the abstract carefully to make sure that everything displays correctly.
Please note that the submission system will not accept equations, graphics, or tables.
All correspondence, including acceptance notification, will be with the presenting author only.
To begin your submission, click here.
---
For technical assistance regarding submission please click here. For all other information regarding content, acceptance process, or abstract administration, please forward a message via email to ses2004@unl.edu
---